Chiropractic for Kids, and Adjusting Babies.
Most people think that chiropractic is only for adults with bad backs. Although it is very successful at helping those people, chiropractic is way more than that.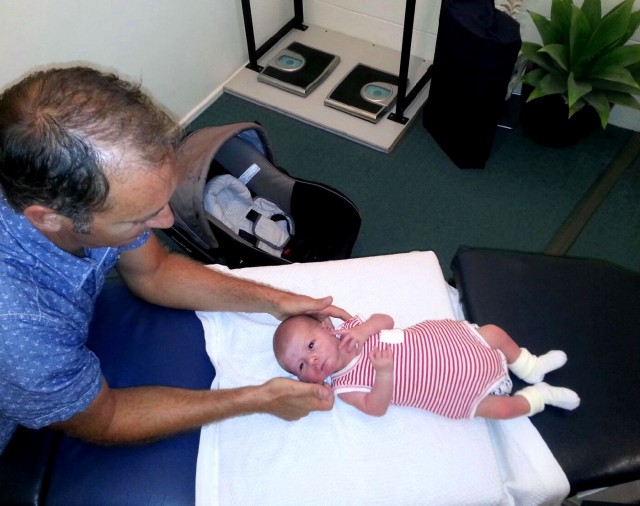 Dr Brad checking baby Byron's spinal alignment (age 7 days).
In fact chiropractic is not really a 'treatment' for bad backs, even though it is recognised as being of benefit. Chiropractic is basically about restoring and maintaining improved spinal function. The reason why it is so successful at helping musculoskeletal conditions like back pain or headaches is because it simply helps your body to function better. And when your body is functioning better you are far less likely to have back pain, or headaches, etc.
So who can benefit from this style of chiropractic care where the goal is improved spinal function?
You guessed it. EVERYONE!
Kids can be especially prone to spinal misalignments. They run around like little maniacs, falling and tumbling, bouncing off walls and each other having a great time.
Most of the time if they have a fall they might have a bit of a cry for a few minutes, but a cuddle from mum or dad, and maybe a band-aid and they are good to go again. But, all these little crashes can accumulate to become misalignments in their fragile little spines. Even the birthing process can place an enormous amount of stress on a newborns spinal structure.
Chiropractic care for kids is extremely safe, with no reported injuries. Ever!
Adjusting babies is very different to adjusting adults, and we only use very gentle pressure (no more than you could stand on your eyeball) if any adjustments are needed.  Special consideration is obviously taken for their little spines, and any adjustments or corrections are done very gently if required. At Coolum Family Chiropractic we never do any manual adjusting (or 'cracking') on kids until there spines have stopped fully developing (between 18-21 years of age).